Daughters of Thyme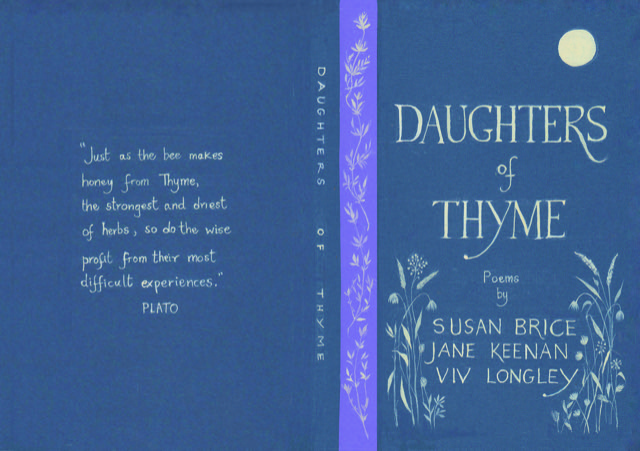 so many people greet and meet
so many say farewell and part
SB
The sunshine comes a-leaping in his face
and bursts of birdsong tantalise his ears
JK
The plain chant gradually
pulls a shawl of acceptance and
peace round my shoulders
giving me the strength to straighten up
and start again.
VL
A beautifully written and presented anthology of three poetic voices celebrating life, love, and the passage of time. Each poet has her own memories to offer, and complementary insights to share: the result is a sensory feast of a book which will leave the reader feeling, in one poet's words, that 'This heart is full'.
Dr Sarah Law — Poet and Lecturer at the Open University
Writing courses can offer vital help to would-be writers, not least the space and license to call themselves writers. This is a legitimising gift, one that has been fully embraced by these three poets. Daughters of Thyme reveals shining solitary acts of creativity, but also a wonderful collaborative spirit, one that no doubt came from sharing drafts, together with honest appraisals and affirmations.
Derek Neale — Professor of Creative Writing at the Open University
I am not, generally, a fan of poetry but I was pointed towards this lovely little gem. It is characterised by the simple way it evokes strong emotion. Surely that is the essence of good writing, which this, very surely, is. It made me cry! Thanks
CFOH — verified purchase
Delighted to have received my copy of "Daughters of Thyme" yesterday... I am so happy to own and read it!! So much talent in it. Just thrilled. My best regards to the Three Beautiful Poets!! So happy!
JK — verified purchase